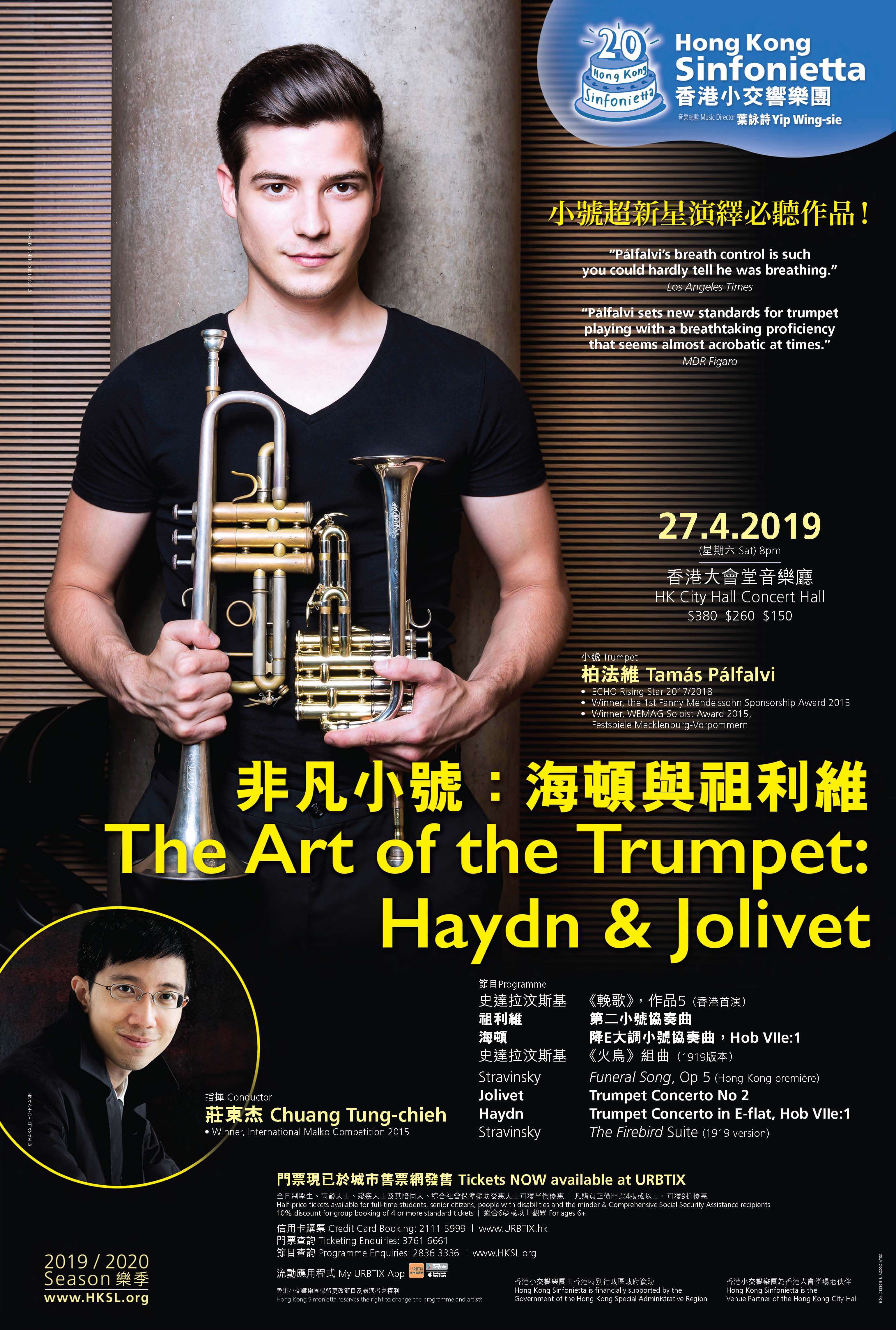 Tamás Pálfalvi, renowned Hungarian trumpeter will give a concert in Hong Kong City Hall on the 27th April 2019. Further details here.
Tickets can be purchased here: www.URBTIX.hkhttp://www.URBTIX.hk
The Art of the Trumpet: Haydn & Jolivet
Conductor Chuang Tung-chieh
Trumpet Tamás Pálfalvi
Programme
Stravinsky
Funeral Song, Op 5 (Hong Kong première)
Jolivet
Trumpet Concerto No 2
Haydn
Trumpet Concerto in E-flat, Hob VIIe:1
Stravinsky
The Firebird Suite (1919 version)
Tamás Pálfalvi (Trumpet)
"Pálfalvi's breath control is such you could hardly tell he was breathing." Los Angeles Times
"Pálfalvi sets new standards for trumpet playing with a breathtaking proficiency that seems almost acrobatic at times." MDR Figaro
"A young musician with an uncommon combination of elegance and daring." Los Angeles Times
"Tamás distinguishes himself and his instrument as a dream team on an adventurous journey, and takes the listener right along with him… " Bayerische Rundfunk
 "Mr Palfalvi, the trumpeter, brought juicy tone and chiseled passagework to works by Bartók, Enescu and Sarasate. His natural showmanship came through, especially in Peter Eotvos's Sentimental, in which Mr Palfalvi created an imaginary dialogue between Miles Davis and Chet Baker, sometimes holding a cornet and a fluegelhorn simultaneously." The New York Times
ECHO Rising Star 2017/2018
Winner, the 1st Fanny Mendelssohn Sponsorship Award 2015
Winner, WEMAG Soloist Award 2015, Festspiele Mecklenburg-Vorpommern
Recent highlights included performances with Los Angeles Philharmonic at Hollywood Bowl, with Camerata Salzburg at Rheingau Musik Festival and at KKL Lucerne, at Beethoven Easter Festival in Warsaw, Concertgebouw Amsterdam, Elbphilharmonie Hamburg, etc, and as Guest Principal Trumpet on tour with Budapest Festival Orchestra
Chuang Tung-chieh (Conductor)
"Chuang proves himself to be a maestro who can create with his sweeping gestures such atmospheric soundscapes that one could almost touch." Der Tagesspiegel
Winner, International Malko Competition 2015
2nd Prize, Sir Georg Solti International Conductors' Competition 2015 (1st Prize not awarded)
2nd Prize, Gustav Mahler Conducting Competition 2013
Has conducted renowned orchestras including BBC Symphony Orchestra, Deutsches Symphonie-Orchester Berlin, MDR Sinfonieorchester Leipzig, Deutsche Kammerphilharmonie Bremen, Oslo Philharmonic, Royal Stockholm Philharmonic, Helsinki Philharmonic, etc.